How to read your natural gas bill

We want to make sure your natural gas or propane bill is clear and makes sense to you. Since there's more to your bill than the amount due, we've created a sample bill below that explains the different items that could appear on your residential or commercial bill.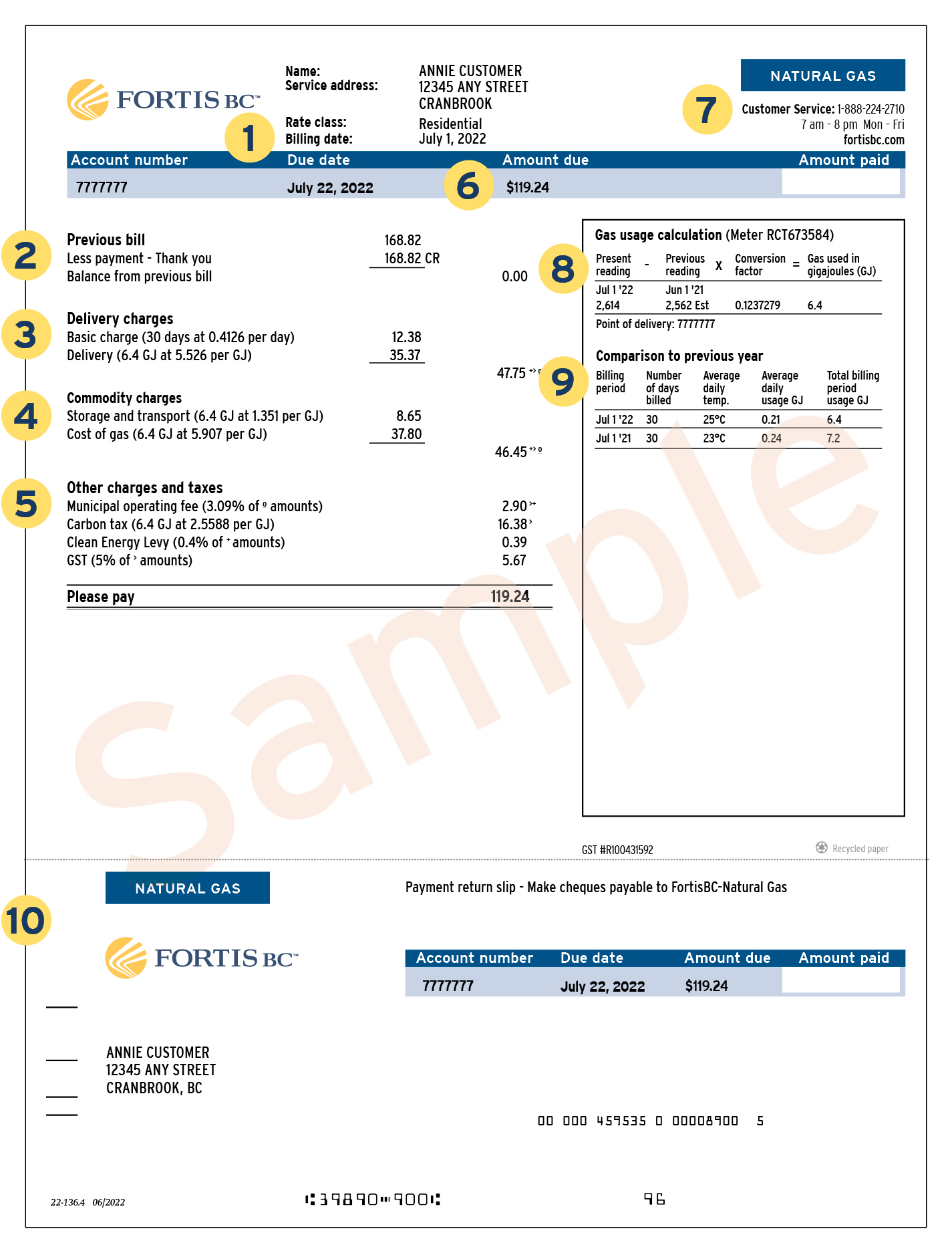 Note: this is only a sample bill and may not reflect current gas rates.
1.
Billing date
Billing date is the date your bill was issued. Transactions after this date will appear on your next bill.
Billing period is the period of time in which charges are billed to your account.

2.
Previous bill
Less payment is the last payment amount we received from you.
Balance from previous bill shows the amount owing, if any, from your previous bill and any payments or adjustments since we issued your last bill.
3.
Delivery charges

Delivery charges are made up of a basic charge and a delivery charge and help cover the costs of maintaining the natural gas system. This is also where we make a modest profit and where we invest in our business and improvements to meet your energy needs. Delivery charges are reviewed by the British Columbia Utilities Commission (BCUC) annually.
Basic charge is a flat daily fee that partially recovers the fixed costs of our system because you are connected to it, whether you are using gas or not.
Delivery charge is based on consumption and is the cost of delivering gas through our system to your home or business.
4.
Commodity charges

Commodity charges reflect the costs of buying and transporting gas or propane. We don't mark up these costs—you pay what we pay.

Natural gas is a commodity traded on the open market like oil, coffee or lumber. As with most commodities, the price is dictated by supply and demand. When demand is high, the price rises. When supply is high, the price drops.
Storage and transport is what we pay to other companies to store and transport gas through their pipelines and infrastructure. These costs are reviewed by the BCUC annually.
Cost of gas is the market price of natural gas itself. Natural gas is currently at some of its lowest commodity rates in the last 10 years due to things like weather and strong levels of production. We review the cost of natural gas every three months with the BCUC. Learn more about how we determine the cost of gas.
5.
Other charges and taxes

Other charges and taxes you may see on your bill are set by various levels of government. We collect them on their behalf and don't gain any revenue from these taxes and fees, which include:
Carbon tax
For homeowners, the carbon tax rate on natural gas is $2.5588 per gigajoule and the carbon tax rate on propane is $3.0246 per gigajoule.

Have questions about the carbon tax?

We collect the carbon tax on behalf of the provincial government. If you have specific questions about the tax rate charged, or if you're interested in learning more about the CleanBC plan, British Columbia's Carbon Tax, please visit their website.

Innovative Clean Energy (ICE) Fund levy
The ICE Fund levy was introduced by the provincial government to support investment in clean energy technology. The levy is 0.4 per cent of the purchase price on residential and commercial energy purchases of natural gas and propane. The levy does not apply to residential and commercial purchases of electricity.
Municipal operating fee
An operating fee is a levy that FortisBC collects on behalf of some municipalities. This fee gets passed on to the district, municipality, city, town or village you live in. It may appear as a fee on monthly charges, excluding tax. When an operating fee is in place, the BC Utilities Commission has approved the fee. It doesn't result in additional revenue for us. For questions about operating fees in your area, contact your local government.
Motor fuel tax
This tax applies to propane business customers only in Revelstoke, BC.
GST (Goods and Service Tax), PST (Provincial Sales Tax) and Carbon Tax
We collect GST on behalf of the federal government and PST and the carbon tax on behalf of the provincial government.

Have questions about GST or PST?

For small businesses and stratas:

1-888-224-2710

, Monday-Friday, 7 a.m. to 8 p.m.
For large commercial and industrial:

1-855-873-8773

, Monday-Friday, 8 a.m. to 4 p.m.
6.
Amount/payment due/amount to be withdrawn

This is the balance outstanding on your account from your last bill plus new charges. If you've signed up for the Equal Payment Plan, this is the payment amount.
7.
Contact information

We're here to help if you have questions about your bill. Call us at 1-888-224-2710 or visit fortisbc.com.
8.
Gas usage calculation

This shows how much gas you've used over the billing period. It lists your current meter reading, and subtracts your previous meter reading. The volume is multiplied by a conversion factor that accounts for your location's standard conditions of temperature and pressure to give your gas usage in gigajoules.

A gigajoule, or GJ, is a measure of the energy in the gas. One GJ is roughly the amount of energy needed to heat a typical house for one day during cold winter weather. You pay for the gas you consume, measured in gigajoules.
9.
Comparison to previous year

This table shows how much natural gas you've used compared to the previous year and includes the average daily temperature. This type of information can help you understand how you use your natural gas and if there are opportunities to conserve and save money.
10.
Payment return slip

This slip gives your account number, bill due date and total amount due. If you receive a paper bill and either mail your payment or pay in person at your financial institution, please include the return slip. For more information on how you can pay your bill, visit Ways to pay your bill.
Missed a bill payment?
We realize that life happens and that sometimes you may not be able to pay your bill on time. Here is some useful information to know. (These definitions also appear on the back of your bill.)
Overdue account? If your account is overdue and payment outstanding, you will incur a 1.5 per cent per month late payment charge (19.56 per cent per annum).
Disconnection of service? If we have not received payment for your previous bill, you will see an "Important notice" message printed on the front of your next bill. To avoid disconnection of service, you must pay the overdue balance immediately, and pay your current charges by the due date shown.

If you've recently paid this overdue amount, let us know immediately.

If your overdue amount remains unpaid and your service is disconnected, you must pay the total amount due, a security deposit and a reactivation charge to reconnect your service.
Moving? Contact us at least 48 hours before you change residence, and tell us when to close your account. You are responsible for all charges until you close the account at your old address.
We're here to help
Homes and small businesses:

1-888-224-2710

, Monday-Friday, 7 a.m. to 8 p.m.
Large commercial and industrial:

1-855-873-8773

, Monday-Friday, 8 a.m. to 4 p.m.